Storage Tank
ANSON is a Chinese famous storage tanks manufacturer, we have been engaged in the large storage tanks research, development, design, manufacture, installation, and sale service for a long time. ANSON storage tanks are widely used in a variety of industry fields, such as petroleum, chemical, wastewater treatment, refinery, etc. We provide our customers with
one – stop turn – key project
of various steel storage tanks and tank accessories, ranging from design, raw material purchase, manufacture, to installation, debugging, and after – sale service.
From design to site installation, from preliminary consultation to after – sale service, let our customers really experience excellent ANSON quality because of our professional service!
Custom Storage Tank Design
When you order your storage tanks in ANSON, you will acquire custom design and manufacture. Besides
process as per your drawing
, we can also offer professional custom design for your own requirements.
We have a number of outstanding technical elite from the famous petrochemical equipment research and manufacturing units, as well as a number of excellent technical engineers, who has engaged in the production of large storage tanks for many years to design you storage tanks. You don't need to worry about how to change your project to suit our tank, we will design your custom storage tanks according to your geographical conditions, use requirements, storage characteristics, and other special features. With decades of steel tanks design and manufacturing experience, we recognize that every tank is right for you.
The following CAD drawing is a crude oil storage tank we designed for our customer.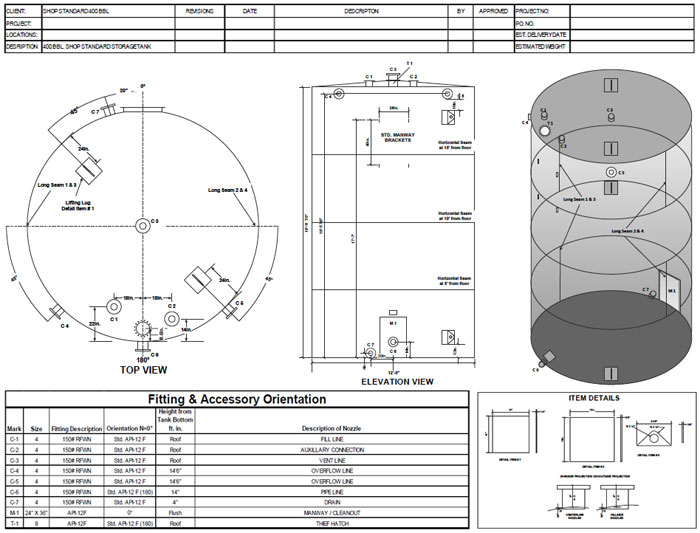 Integrate China's Steel Raw Material Resources Just for Your High Quality Storage Tanks
Raw material guarantees high quality storage tanks, the quality of raw material directly affects storage tanks performance and use life. Premium quality raw material can not only make customers have a more longer-term use of storage tanks for more profile, but also has great influence on the reliability of manufacture.
ANSON always firmly believe it, as Chinese famous storage tank manufacturing service provider, we insist to provide our customers with the most superior steel material resources, like clad steel plate, stainless steel plate. With decades of steel tank experience and abundant of high quality raw material resources, we are committed to provide customers with the most trust steel raw material for various storage tanks.
Storage Tanks Fabrication
ANSON has long been engaged in the design and manufacture technology research of GB50128 and American Standard
API650 tank
, has the manufacturing capability of large storage tanks, and obtained the certification of ASME welding ability.
We can offer a series of storage tanks processing service ranging from thousands of
tank accessories
to complex tank fabrication. In our modern factory, a team of professional engineers will fabricate your storage tanks according to the drawing exactly, using the state of advanced equipments and all of the skill gained from decades of their practice experience. More than twenty years of large storage tanks design and fabrication experience make us clearly understand the potential weaknesses of every link in the manufacturing process of the tank, and we will build in safeguards from the first cutting to the end of painting, from the groove welding to the tank assembly.
ANSON is famous for our cost-effective
OEM
and turn-key project, we can process your storage tanks as per your drawing for underground tank, above ground tank,
floating roof tank
, fixed roof tank,
crude oil tanks
, chemical tank,
water tank
, etc. All tanks built by ANSON can meet API650 standards, or other international standards like GB50341, BS2654, JIS B8501, etc.
Professional fabrication technology guarantees high quality tank
We have plasma cutting machine and
numerical control plasma cutting machine
for stainless steel plate and clad steel plate, acetylene cutting or numerical control cutting method is to be preferred for the common steel plate out of the economic cost considers. As for easy deformed steel sheet, water jet cutting method by numerical control plasma cutting machine is also available. All cutting error is controlled within the range of ±1mm.
For large storage tanks, all steel plates should be rolled in advance and then transport them to the construction site to assemble them together. ANSON adopts
the most advanced CNC steel plate rolling
machine for plate rolling and hydraulic press brake machine for heavy plate rolling.
All steel plates used for storage tanks will be formed a groove by beveling machine, and be inspected whether the plate is damaged. What's more, clad steel plate groove forming generally requires a step between the composite layer and the base layer for welding.
We are proud to progress together with our customers, and we are constantly fabricating high quality storage tanks for giving our customer more than competitors, durable, strong stability and unique competitive advantage.
Fast & Safety Logistics
We have a set of rigorous logistics standard from packaging to transportation, as well as professional logistics directors to ensure all export products can go through long-distance transport and arrive safely without damage.
All products will be placed in specialized designed brackets, for example, the rolled plates will be placed comfortably as its curve radius for keeping final welding of tank in site. Once found unqualified packaging products, all the goods won't be out of the port, until all of them conform to the packaging requirements.
We have fixed freight agent with years of cooperation, they give priority to our product transportation , and feed back logistics information at any time, also based on freight insurance, all products will be transported fast and safely.
Installation of Storage Tanks
As for field ercted tanks, we can provide both traditional installation method and
jacking method
. During the storage tank installation process, we set up a series of strict technical requirements, quality standards, operating procedures, and assessment system, constantly improve the construction technology and process level to ensure the quality of the project. From the storage tank main body construction to tank accessories installation, every link has strict safety testing standards.
As the installation of large storage tanks usually takes a long time, the storage of materials during the installation process is also the key. Materials for large storage tanks construction are generally made of steel, so they will be kept in a dry and safe place, in order to prevent rust and collision, especially the rolled steel plates will be placed on a special shelf to prevent deformation. Welding is another critical link, we have professional welding workers to carry out storage tanks welding, all of them have passed the welding qualification certification, and have years of welding experience, guaranteed your storage tanks be welded with weld joints as less as possible. After all of the installation complete, the storage tanks will be tested whether there is leakage, in order to maximize your use security. Installation quality is the first, at the same time, the safety of production cannot be ignored. We have made a strict safety operation code to ensure our workers' safety during the whole tank installation process, from personnel fell down to sparks caused by welding, every link is strictly monitored and prevented.
Main Construction Steps of Large Storage Tanks
| | | |
| --- | --- | --- |
| | | |
| Locate the base plate of storage tanks. | Weld the top circle of storage tank. | Install (assemble) and weld the truss of conic node. |
| | | |
| Install lifting device of tank, including upright column, electronic chain hoist, piston ring, lifting eye, and so on. | The electronic chain hoist pulls up, leading the tank rise, to rise the wallboard. | Lift repeatly, until complete all welding. |
All of these are why ANSON storage tanks are getting more and more popular all over the world, especially during 2010 -2013, we have designed and installed four large oil storage tanks for Garner power plant. Although living in a foreign country, our staff still overcome all kinds of difficulties to complete the installation tasks on time and had a deep relationship with the local people, received praise from the local government and people.