Wear Plate Hardox
We can roll, bend and press the hardox plate to preset radius with our rolling machines. All of the material we choose are high quality hardox like hardox 400,hardox450,hardox500,hardox600,hardox700,etc. Also value add process like bolts hole, welding, punching drilling are available.
The hardox plate are famous for its great performance to wear resistance. But the outstanding advantage comes at a high price, so the hardox usually work as liner plate together with the supporting plate.
Application:
Power industry. Fan blades, burner piping, transporting and hopper lining, crusher parts, coal mill parts, ash pipe, air treatment system and transport aircraft.
Steel mill. Bin liner plate, sliding plate, mesh screen plate, hardox shell for boiler furnace, Reinforced steel sintering, blast boiler, feed cylinder pipe, distribution plate, dump truck, hopper, etc
Cement industry. Impact plate of powder concentrator's blade pump casing pipe mill liners crusher parts slag trough various chassis vibrating screen plate etc.
Glass industrial. Fan impeller fan blade plate , scale board for hub plate ,fan machine mouth, easy worn parts, etc
Mining industry. Truck cargo tank lining board, hopper lining, transporting tank liners, crusher parts, cover plate, wear-resistant and wear-resistant plate
Coal transporting. Tank processing industry, hopper, crusher parts and lining plate, coal conveying pipe, elbow, scraper conveyor plate, pump body.
Double Linkage CNC Bending Machine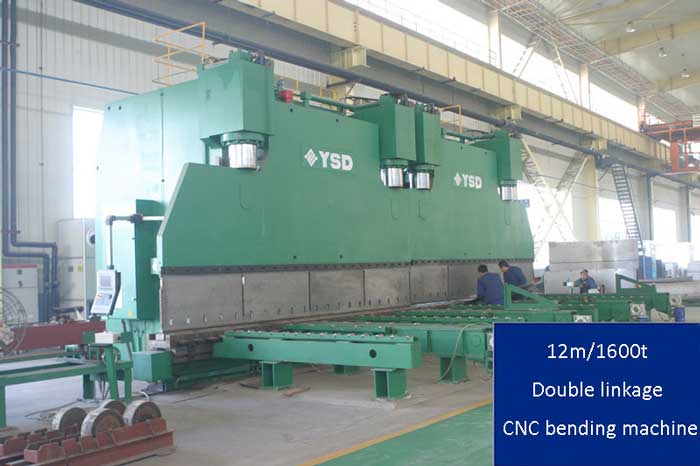 Steel welding construction, through vibration ageing or anneal with sufficient strength can get rigidity and high accuracy.
With advanced hydraulic system, the machine have a good reliability.
It generally uses precision sliding rail to eliminate the gap between the guide rail for high shear.
Electric back guage, manual adjustment, digital display.
Blade gap can be adjusted by the handle, the scale value is displayed, rapid, accurate and convenient.
Rectangular blade, four blade can be used for long service life. Shear angle can be adjusted to reduce sheet metal distortion.
Using the tool carrier within the dumping bodies to facilitate loading materials, and to improve accuracy
Parameter:
| Parameter Name | Figure | Unit | Note |
| --- | --- | --- | --- |
| Maximum shear plate thickness | 12 | mm | σb≤450N/mm2 |
| Maximum shear plate width | 16000 | mm | |
| Throat Depth | 450 | mm | |
| The Shear Angle | 0.5-2.5 | ° | |
| Blade gap | 0.08-1.6 | mm | |
| Number of stroke | 5-15 | 1/min | Include the smallest block trip |
| Upper turret maximum stroke | 400 | Mm | |
| Maximum shearing force | 620 | kN | |
| Maximum press force | 535 | kN | |
| Maximum working pressure | 25 | MPa | |
| Block range of back gauge | 10-1000 | Mm | |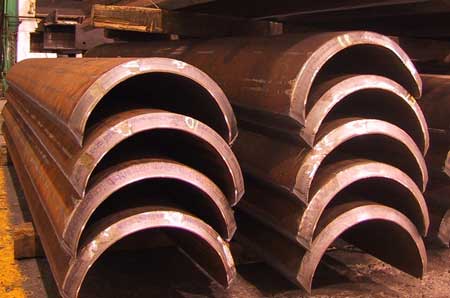 Rolled hardox plate with beveled edge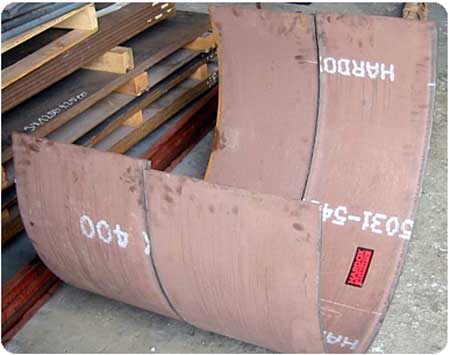 Rolled hardox segment